Best Orlando maternity photographer offers on-location  and studio maternity photo sessions. Katerina provides a complimentary collection of maternity dresses to use during a portrait session.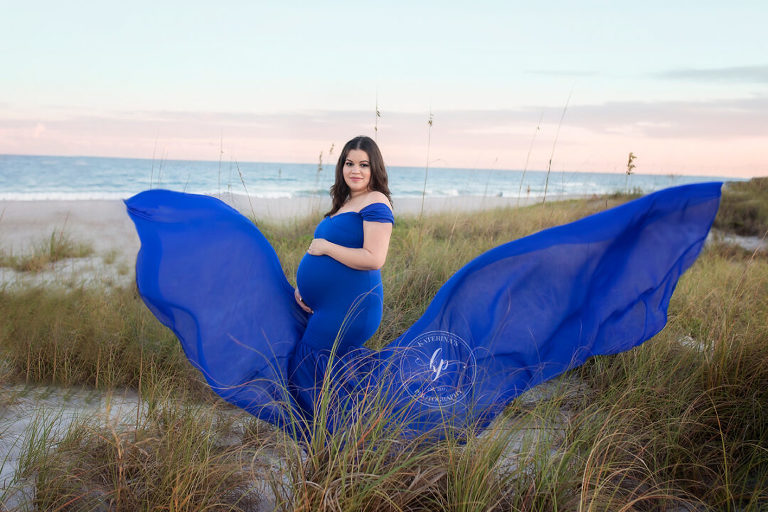 Exclusive maternity photography package information
Katerina's photography,  LLC is premium newborn, maternity and baby photographer serving Orlando and Central Florida.
Becoming a mom was one of the happiest moments of my life. The growing belly and feeling all the moves was something I have thrived on during my pregnancies. I am so glad I have those moments documented. And I would love to capture these special memories for you.
My main focus is to document this special moment for you – the connection you have as a family, your love for each other, and the excitement you feel welcoming your baby to the world. I will direct you and help you through the whole process. I will make sure you are comfortable and feeling glamorous as you are. The photo session is fun and enjoyable time. I am experience maternity photography that will guide you through poses and set ups. During the photo session, we will capture many beautiful portraits of different backgrounds. You will be photographed in multiple dresses.
Maternity Photography Frequently Asked Questions:
When should I book and take my maternity photos?
I recommend contacting me after your first or second trimester. The session should ideally happen between 29-36 weeks into your pregnancy, depending on how you are feeling and showing. I am usually fully booked two to three months in advance. This is the perfect time when your belly is nicely showing.  But you still feel comfortable enough to pose and stay on your feet for longer period of time.
What are the best maternity photography locations?
When you book your session, we will have a planning consultation that we will discuss all the possible locations. My studio offers both outdoors and in studio maternity session. I prefer maternity photo shoot locations in beautiful parks of Orlando or beaches. All these locations offer variety of different backgrounds, textures, flowers, greenery, water features and more. My maternity session is usually in one location that offers multiple set ups for our photo shoot. The main reason is to keep you most comfortable and utilize the time in the maternity session the best we can. For more information please go to Best maternity locations in Orlando.
What maternity dresses shall I wear for my maternity session?
I do provide my clients with maternity gown closet. This will be another thing that we will be planning during our maternity session consultation. During our photo session, we usually have time for 2-3 dresses for an outdoor maternity session and 3-4 dresses for a studio maternity photo shoot. You can also wear something on your own that highlights your growing baby belly. To explore my maternity closet, please go to Client Closet.
Who can be involved in my maternity photo shoot?
The main focus will be on your an your your growing belly but I encourage the whole family to be involved.
Do you use any props during the pregnancy photo session?
I generally don't use any props during a maternity photo shoot. I do welcome any personal items like an onesie, a sign, letters,  a baby sonogram,  or anything else that is meaningful, in your photo session.,
What happens after the maternity session?
Within a week after your photo session, you will have a video conference reveal and ordering appointment and your proofing gallery will be ready. That's the most exciting moment of the whole experience! This is where I will reveal your images and you will choose your favorites.  This is also great time to decide if you want to order any print products such a box of prints 8×10, an heirloom album and more. The Proofing gallery will include both posed and candid images (usually around 50-80 unique portraits)., Once you make your selection, your final gallery will be ready in 14 days. Professional photo retouching is included in your Maternity session for every image that you pick in your final gallery. 
Please note that unedited images in any form will not be provided. I truly believe that every single image that you will cherish for life should be edited to my professional standards.
Is there a discount if I book both maternity and newborn photo shoots?
yes! You will get a discount of $100 for your maternity session. 
What are my options for Print products?
You may choose from gorgeous mounted prints, matted prints in a beautiful keepsake box, framed wall art, canvas wall art, and heirloom albums. All your products will come with digital files. For more information go to Heirloom Print Products.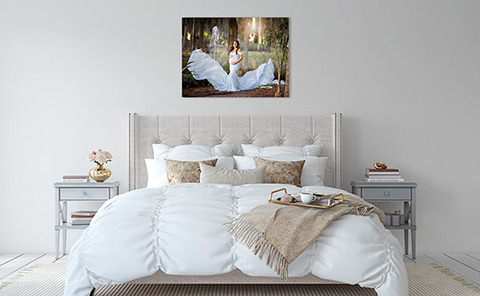 Do I get digital files?
Yes, each portrait will come with a digital file printable to 8×10.
Maternity package – $590 (if purchased with a Newborn Session only $550)
Includes:
Design consultation appointment (via Phone or Zoom meeting),

Session on location in a preferred parks or in a studio

Session includes portraits of mom to be, and her husband and children

1 hour portrait session 

Large collection of dresses

Reveal and ordering appointment (Zoom meeting) or an online proof gallery

15 high end professional retouched images of your choice (the gallery usually includes 50-80 images to choose from)

Box of 4×6 prints (15)
Additional digital files are available to for $50 per image (Each portrait comes with a matching print 4×6). Product print collections start at $590, and albums start at $590.
 The sales tax 7%  will be added to final purchase. Travel cost within 25 miles radius from 32765 is included.
To learn more about your newborn session go to NEWBORN PHOTOGRAPHY.
You can find my pricing, products,  and packages in INVESTMENT (click here)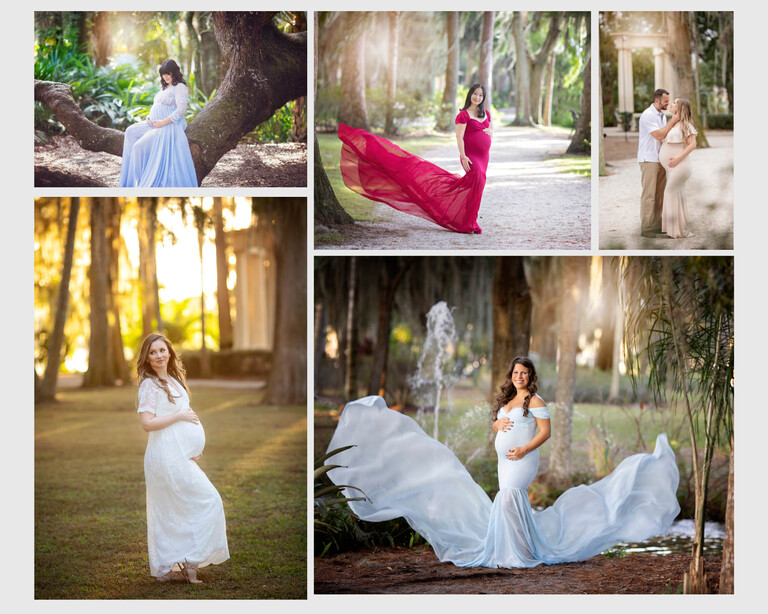 Let's Chat